Emerald Lake is disciplined in applying an established strategy developed by our team that uses our Core Company Framework to evaluate investments and our Value Creation Process in an effort to accelerate growth in partnership with management. Investments range from buyouts of thriving companies to more complex opportunities requiring customized solutions across all market environments.
Our Core Company Framework

Sustainable
Competitive Advantages
Enables companies to outperform through market cycles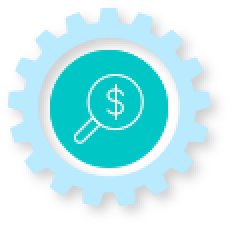 Capital
Efficiency
Converts enterprise growth into equity value

Controllable Levers to
Generate Return
Actions to create value in a competitive market

Resilient Business Models with
Secular Growth Trends
End market tailwinds and intrinsic stability
Our Value Creation Process
Our Value Creation Process is predicated on building supportive, trusting relationships with our management teams. We aim to:
Develop a shared vision and align on ambitious goals to drive value creation
Determine high-impact opportunities for investment
Remove or work through historical constraints to growth
Empower teams with the financial, intellectual, and organizational resources to achieve our collective aspirations
As proactive and constructive partners, we seek to support and empower our management teams to unlock the full potential of our portfolio companies and build enduring value.